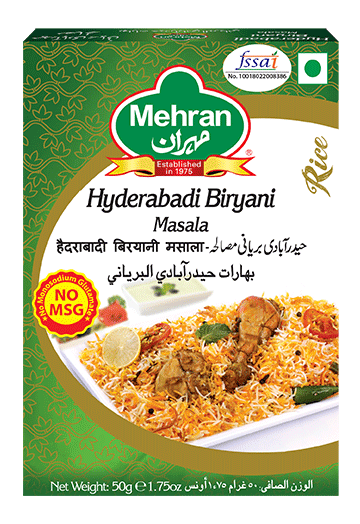 Hyderabadi Biryani Masala
Packet Ingredients:
Salt, Red Chilli, Garlic, Ginger,
Green Cardamom, Cumin, Caraway,
Big Cardamom, Black Pepper, Cinnamon,
Acid (Citric Acid), Turmeric, Clove,
Saffron Flavoring, Screw Pine Flavoring,
Anti Caking Agent (Silicon Dioxide),
Bay Leaves, Coriander
Mutton/Chicken 750g – 1 kg
Mehran Basmati Rice 750g (Soaked for 30 minutes)
Onion (Medium) 4 pcs (Sliced)
Yogurt (Whipped) 2 1/2 cup
Mehran Ginger Paste 2 tbsp
Mehran Garlic Paste 3 tbsp
Green Chilli 6 – 7 pcs (Finely Chopped)
Green Coriander 1 bunch (Finely Chopped)
Mint Leaves 1 bunch (Finely Chopped)
Lemon Juice 3 – 4 tbsp
Oil/Ghee 1 1/2 cup / 300g
Mehran Hyderabadi Biryani Masala 1 packet – 50gm
Heat the oil/ghee, fry onions until they become golden brown, take out onion and crush half quantity
and keep the rest aside.
Finely cut green coriander, mint and green chilies. Keep aside.
Marinate the mutton/chicken with1/2 cup oil/ ghee,

Mehran Hyderabadi Biryani Masala

, yogurt,
crushed onion, half chopped green masala, 2 tbsp lemon juice,

Mehran Ginger & Garlic Paste

and keep
for 2 hours. (If using mutton then add 2 tbsp papaya paste).
Cook meat for 10 – 15 minutes.
In a separate pan boil soaked

Mehran Basmati Rice

with 14 cups of water and 21/2 tbsp salt and boil till
half-done then strain and keep aside.
Now spread prepared masala on rice in two layers and on top spread the fried onion, mint and coriander.
Cover and cook on high heat for 3 minutes then lower the heat and cook for 15 minutes.
When rice is done mix and serve.
Serve with salad and raita. (To enhance taste add 2 – 3 cloves, 1/2 tsp caraway and 2 – 3 green cardamom in
boiling rice) 
Serving for 6 – 8 people.
(1 packet 50g)
2 hours 45 minutes for chicken.
3 hours 45 minutes for mutton.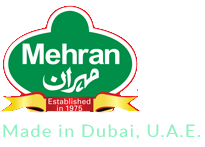 Imported & Marketed in India by:
Ezta Ventures LLP
Byculla East, Mumbai - 27
For Trade Enquiries Contact:
M: 09167476655
M: 07304237248