Chapli Kabab
Packet Ingredients:
Salt, Wheat Flour, Red Chilli,
Coriander, Pomegranate Seed,
Cumin, Carom, Mango Powder,
Black Pepper, Ginger, Garlic,
Acid (Citric Acid), Caraway,
Cinnamon, Fenugreek
Allergen Advice:
For Allergens, See Ingredients In Bold
Meat (Minced) 750g – 1 kg
Onion (Medium) 1 pc (FinelyChopped)
Tomato (Medium) 4 pcs (2 Round Sliced & 2 FinelyChopped)
Green Onion 1/2 cup (Finely Chopped)
Green Chilli 6 – 7 pcs (Finely Chopped)
Green Coriander 1/4 cup (Chopped)
Mint Leaves 2 tbsp (Chopped)
Egg 2 pcs (Whisked)
Ginger 2 tbsp (Chopped)
Garlic 2 tbsp (Chopped)
Oil/Ghee/Butter 1 1/2 – 2 cups /300g – 400g
Mehran Chapli Kabab Masala 1 pouch – 50g
In a bowl add minced meat, 2 tbsp oil/ghee/butter, green chilli, green coriander, mint, ginger, garlic, chopped tomatoes, green onion, onion, eggs and Mehran Chapli Kabab Masala. Knead well and let it marinate for 30 minutes.

Make thin round kababs, with oily hands and place a slice of tomato on each kabab. Fry kababs from both sides until they turn brown.
Serve with fresh salad and raita. (Mehran Chutney & Ketchup) 
Serving for 6 – 7 people.
(1 packet 50g)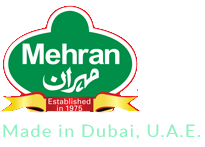 Imported & Marketed in India by:
Ezta Ventures LLP
Byculla East, Mumbai - 27
For Trade Enquiries Contact:
M: 09167476655
M: 07304237248