Chicken Mutton
Packet Ingredients:
Salt, Red Chilli, Coriander,
Ginger, Garlic, Cumin, Turmeric,
Paprika, Clove, Cinnamon,
Black Pepper, Big Cardamom,
Green Cardamom, Fenugreek,
Acid (Citric Acid), Bay Leaves
Chicken/Mutton 1 – 1 1/2 kg
Onion 4 pcs (Finely Sliced)
Mehran Garlic Paste 2 tbsp
Ginger 1 tbsp (Finely Chopped)
Yogurt (Whipped) 1 cup
Green Coriander 2 tbsp (Chopped)
Oil/Ghee 1-1 1/4 cup / 200g – 250g
Mehran Chicken/Mutton Masala 1 packet – 50g
In a deep pan, heat oil and fry the onions until they become light brown. Remove the onions and drain on an absorbent paper. When onions cool down, crush and keep aside.

In the same oil, add meat, Mehran Garlic Paste and fry well until colour changes. Add yogurt, Mehran Chicken/Mutton Masala and cook for 7 minutes. Add fried crisp onions, chopped ginger and cook further for 3 minutes.

Now add ½ a cup of water and cook for 10 minutes until meat becomes tender. (For mutton 2 cups of water). Then add green coriander and simmer for 5 minutes. Remove when oil separates. (Add 1 cup of water for a smoother gravy and cook for an additional 8 – 10 minutes on low heat and remove).
Serve with hot crisp naan, roti or taftaan.
Serving for 6 – 8 people.
(1 packet 50g)
25 – 30 minutes for chicken.
1 hour for mutton.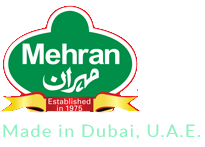 Imported & Marketed in India by:
Ezta Ventures LLP
Byculla East, Mumbai - 27
For Trade Enquiries Contact:
M: 09167476655
M: 07304237248