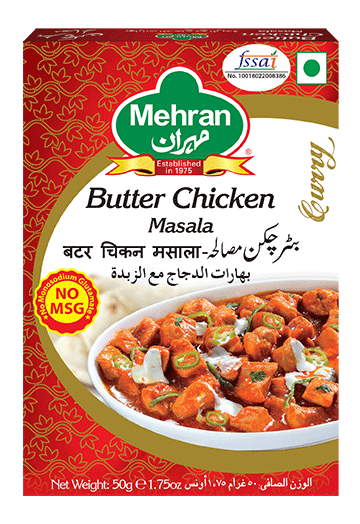 Butter Chicken Masala
Packet Ingredients:
Salt, Red Chilli, Paprika, Coriander, Cumin,
Garlic, Corn Flour, Onion, Ginger,
Acid (Citric Acid), White Pepper, Carom,
Sugar, Black Pepper, Fenugreek,
Butter Flavoring,
Anti Caking Agent (Silicon Dioxide)
Chicken (Small Pieces) 750g – 1 kg
Onion (Medium) 1 pc (Finely Chopped)
Tomato (Medium) 4 pcs (Peeled & Finely Chopped)
Garlic 1 tbsp (Chopped)
Mehran Ginger Paste 1 tbsp
Butter 2 – 3 tbsp
Lemon Juice 1 – 2 tbsp
Fresh Cream 1/2 cup
Milk 1/4 cup
Green Coriander 1 tbsp (Chopped)
Oil/Ghee 3/4 cup /175g
Mehran Butter Chicken Masala 1 packet – 50g
Heat 1/4 cup oil/ghee and fry tomatoes for 5 – 6 minutes until tomatoes become soft. Keep the fried tomatoes aside.

Heat the remaining oil/ghee, fry chopped onion, chopped garlic, Mehran Ginger Paste and Slowly add chicken. Now add Mehran Butter Chicken Masala. Fry for further 4 – 5 minutes and add fried tomatoes. Cover and cook on low heat for 15 minutes.

Now add milk, mix well then add fresh cream and butter. Cook for a minute, now add lemon
juice and remove.
Serve with chapati and plain boiled rice. 9Garnish with green coriander.)
Serving for 6 – 8 people.
(1 packet 50g)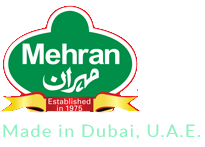 Imported & Marketed in India by:
Ezta Ventures LLP
Byculla East, Mumbai - 27
For Trade Enquiries Contact:
M: 09167476655
M: 07304237248